Welcome to Stacking the Shelves! StS is a weekly meme hosted at Tynga's Reviews.
I haven't received or bought many books this month - I'm trying really hard to cut down on books I buy until I've cut my TBR pile down a bit. I had a big life change this month as well: I moved from Scotland to London, and started working at a publisher.
I do get books from work now but I haven't quite decided if I'm going to feature or review them on the blog or my Youtube channel so for now I'm leaving them out. So here are the three books I got in December: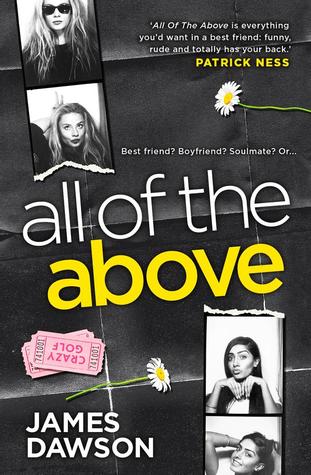 All Of The Above, by James Dawson
- I won this from George Lester's Youtube channel and I'm so glad I got the chance to read it. It's about Toria, a girl going in to her penultimate year of high school, starting at a new place in a town her family have just moved to. It's about friendship, eating disorders, self harm, figuring out your sexuality, and a whole lot of other stuff - basically being a seventeen year old at high school! I'll review this one properly soon, but I really think James hit the nail on the head with what the experience of being that age is like. It's not neat and tidy, there's always a lot going on.
Harry Potter & The Philosopher's Stone illustrated edition
- this one was a Christmas present from
my parents, it's the only book I asked them for, but I wasn't expecting to actually get it - it's quite expensive for a book. It's so beautiful and I really like it. The illustrations bring it to life in a new way - some similarities to how things are shown in the film, and some things which are more like how I imagined scenes, or something totally new. If you're a Harry Potter fan, I highly recommend this one.
London Falling, by Paul Cornell
- I also got vouchers for audiobooks for Christmas, and this is the book I chose. I've just started it so I'll talk more about it in a review when I'm finished. It's about a London police team dealing with a magical suspect.
What books did you get in December? Leave your links in the comments and I'll check them out!
~Ailsa