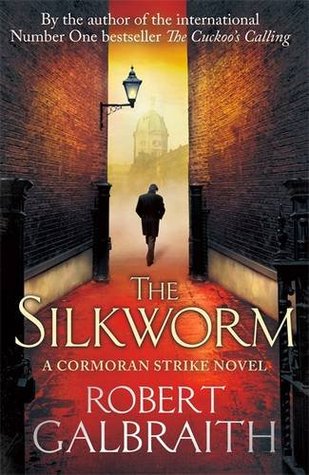 Title:
The Silkworm
Author:
Robert Galbraith
Series
: Cormoran Strike book two
Publisher:
Sphere
Genre:
Crime
Source:
Gifted from publisher
Description:
When novelist Owen Quine goes missing, his wife calls in private detective Cormoran Strike. At first, she just thinks he has gone off by himself for a few days - as he has done before - and she wants Strike to find him and bring him home.
But as Strike investigates, it becomes clear that there is more to Quine's disappearance than his wife realises. The novelist has just completed a manuscript featuring poisonous pen-portraits of almost everyone he knows. If the novel were published it would ruin lives - so there are a lot of people who might want to silence him.
And when Quine is found brutally murdered in bizarre circumstances, it becomes a race against time to understand the motivation of a ruthless killer, a killer unlike any he has encountered before...
My thoughts:
I haven't read the first book in the series, but as with many crime novels, that didn't matter. I got enough of an introduction to the characters to understand who they were and the significance of various things, like the financial difficulties Cormoran is experiencing through most of the book. I also thought there was a good amount of character development over the course of the story, and a believable amount for the three weeks or so that the story covers. The relationships between the characters are also developed over this story and that's what makes me want to read book three, Career Of Evil - I want to see what happens next in their personal relationships and other changes that you can start to see in The Silkworm. It also might make me backtrack and read the first one, so I can see where everyone started out, particularly how things were between Robin (his assistant) and Cormoran.
In terms of the mystery, I liked it a lot, although the details from the book the murder is based on were quite gruesome in places! All the evidence was given to the reader, which I liked - all the clues were there, even if I didn't catch all of them. Once Cormoran Strike has figured out who the murderer is, however, things get a bit cagier - Robin is sent on an unnamed mission to find certain bits of evidence, and readers aren't told what that is until the 'big reveal' at the end. While that didn't bother me, I know it's not everyone's favourite thing.
I'm giving this one 7/10 - I'm not rushing out to buy book 1 or 3, but if I stumble on them at a good price second hand somewhere, I'll read them.