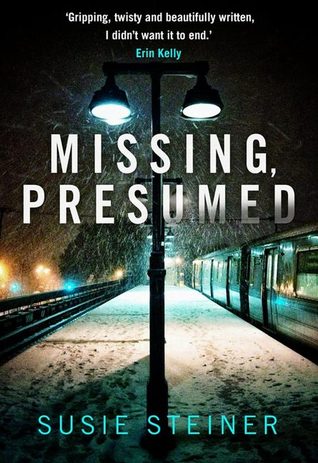 Title:
Missing, Presumed
Author:
Susie Steiner
Release date:
March 2016
Genre:
Crime
Publisher:
HarperCollins
Source:
Publisher
Description:
Mid-December, and Cambridgeshire is blanketed with snow. Detective Sergeant Manon Bradshaw tries to sleep after yet another soul-destroying Internet date – the low murmuring of her police radio her only solace.
Over the airwaves come reports of a missing woman – door ajar, keys and phone left behind, a spatter of blood on the kitchen floor. Manon knows the first 72 hours are critical: you find her, or you look for a body. And as soon as she sees a picture of Edith Hind, a Cambridge post-graduate from a well-connected family, she knows this case will be big.
Is Edith alive or dead? Was her 'complex love life' at the heart of her disappearance, as a senior officer tells the increasingly hungry press? And when a body is found, is it the end or only the beginning?
My thoughts:
I love a good crime novel, so when this book just kept selling and selling I decided to see what the fuss was about.
Missing, Presumed
introduces D. S. Bradshaw and her teammates, sets up their working relationships and starts to look at some of their individual dramas. In terms of the case they're dealing with, I was intrigued by the title - straight away is the question of whether Edith (the missing girl) is just missing, or presumed dead.
I enjoyed the various twists in the case, as the team follow different leads and uncover new clues. The story is told from several viewpoints, with the most prominent being Manon. As the book progressed I began to have a suspicion of what might have happened, even if I couldn't put together the details of it, but I wasn't sure, and it was good to read through to the end and finally get everything untangled.
While I'm interested in seeing the developments of the police team over future books, Manon's love life in this one did annoy me quite a lot, and I skimmed through large portions of her point of view chapters which didn't relate to the case. She just seemed a bit too grumpy and strange, it wasn't very interesting to read her awkward dating experiences or to see things getting messed up.
Overall, it was a promising start to a series, and hopefully Ms. Steiner can build on it and the characters she has introduced to create a stronger second book.
Missing, Presumed
was a good, fast read but not memorable once I'd finished - definitely the sort of book I'd class as a 'beach read' or holiday read. I'm giving it 6/10.