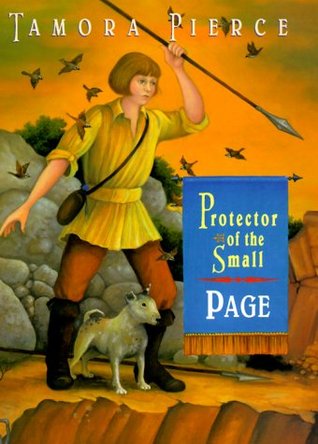 Title:
Page
Author:
Tamora Pierce
Publisher:
Random House
Series:
Protector Of The Small
Genre:
Fantasy (YA)
Description:
Keladry of Mindalen, the first girl to train as a knight since Alanna, is officially a page now, but she's got three more years before she'll be a squire. And those three years are not going to be easy. Kel has to stand up against bullying boys, cruel older sisters, and, as always, the training master, Lord Wyldon!
My thoughts:
I love Tamora Pierce, and reviewed the first book in this series earlier this year. In this instalment, Kel continues through her training. It goes quite quickly through the remaining three years, building up to the graduating exams which she'll face at the end of her fourth year. I enjoyed seeing how Kel's classmates come to accept her (with a few notable exceptions) and the new friendships she forms with animals, staff, teachers and other pages at the castle. It was a nice summer afternoon read and I was glad I could go straight on to the sequel when I was done.
It's hard to rate this one - it was a good story, and entertained me for a few hours by the pool, but it wasn't a standout top book of the year. I'm going to say 7 for this one, I think.
~Ailsa