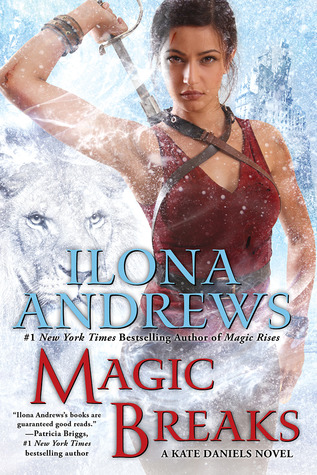 Title:
Magic Breaks (Kate Daniels #7)
Author:
Ilona Andrews
Release date:
July 2014
Publisher:
Ace
Genre:
Urban Fantasy
Source:
Bought
Description:
As the mate of the Beast Lord, Curran, former mercenary Kate Daniels has more responsibilities than it seems possible to juggle. Not only is she still struggling to keep her investigative business afloat, she must now deal with the affairs of the pack, including preparing her people for attack from Roland, a cruel ancient being with god-like powers. Since Kate's connection to Roland has come out into the open, no one is safe—especially those closest to Kate.
As Roland's long shadow looms ever nearer, Kate is called to attend the Conclave, a gathering of the leaders from the various supernatural factions in Atlanta. When one of the Masters of the Dead is found murdered there, apparently at the hands of a shapeshifter, Kate is given only twenty-four hours to hunt down the killer. And this time, if she fails, she'll find herself embroiled in a war which could destroy everything she holds dear...
My thoughts: I was a bit nervous starting this Ilona Andrews book. After the previous one, Magic Rises, it seemed inevitable that the story was reaching the point where Kate would have to face her father. And I couldn't imagine that happening without things going really badly for Kate and her allies, the way things did in Magic Rises. I don't want to spoil everything, but it wasn't the bloodbath I worried it might be.
I love this book. However, it's hard to say that I love it on it's own merits, or to review it on it's own merits. Magic Breaks works, for me, because of the series as a whole. It's the little bits and pieces from the earlier books starting to really pull together and reach a head that makes me appreciate it so much. It's seeing Kate stand up and do things that are a world away from what readers might have expected from her in the first few books. The characters and situations are meaningful because we got to know these characters, like Derek, Ascanio, and Barabas, to pick out just a few.
There are some acceptances and realisations in Magic Breaks for Kate and others that come out of just the events of this book. But overall, I felt like it was a culmination of things that came before. It's the proof that events in the previous books are still affecting Kate and Curran. The events of Magic Rises in particular are very much still felt.
I'm not saying that I think it wouldn't be a good book without the rest of the series. It's a great book. But it's hard at this stage in the series, with such a strong link of the story arc going between them, to take it as a stand-alone. It's not. It's the next chapter, and that took it from being a great book in a great series, to being one of my favourite reads this year.
With Magic Breaks, Ilona Andrews has a story with character development, romance, revelations, tough decisions, and unexpected twists. I can only hope that the remaining couple of books in the series live up to this. 10/10.
~Ailsa