Waiting on Wednesday is a meme hosted by Jess at Breaking The Spine.
I have three books to look at this week. They've all been released in the last couple of months, but I haven't had a chance to read them yet, and I'm making myself read a few more books on my kindle (or get my next job lined up!) before I buy... the waiting is hard!
First up:
Deadly Spells, book 3 in the Prospero's War series by Jaye Wells.
I've read the first two books in this
series and really enjoyed them. Kate Prospero is a cop, and from a powerful magical clan - one of the clans she's fighting as a cop. I'm loving the developments in her professional life as a cop, seeing how her attitude to magic is changing, and of course the hints at potential love interests that are starting to creep in! I'm not a fan of insta-love at all, so I'm glad that by the end of book two, there were just some things starting to take shape.
Second:
Vision In Silver, by Anne Bishop.
Book 3 of the 'Others' series. I like
the way these stories are told, following main character Meg who is a seer - when she makes a cut on her body. Meg is making a home for herself amongst the supernatural creatures who live on the edge of a town in North America. In this series, supernatural creatures are way above humans on the food chain, but the humans have a bad habit of forgetting that! At the end of book 2 it looked like things were getting pretty bad for humans in America, but something in far away Europe could be trying to change that... I'm looking forward to seeing what's next for Meg and her friends, and how they deal with the next set of challenges.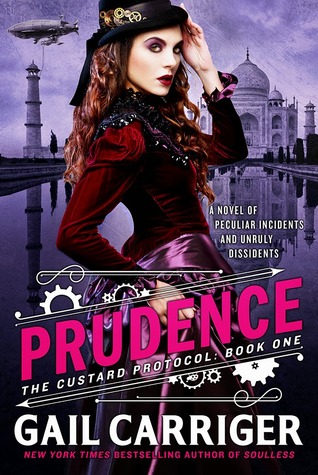 Third:
Prudence, by Gail Carriger.
I'm a big fan of Carriger's work, and Prudence is about the daughter of my favourite of her heroines, Alexia, making her own way in the world. I can't wait to dive into another aspect of Ms. Carriger's world, and see some old friends from the previous series' too, hopefully.
Feel free to share you're WoW links in the comments :)
~Ailsa