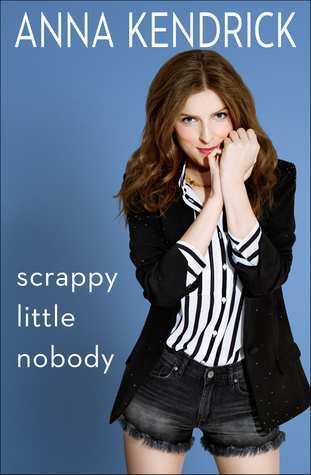 Title:
Scrappy Little Nobody
Author:
Anna Kendrick
Release date:
November 2016
Publisher:
Simon & Schuster
Genre:
Autobiography
Source:
Gift from friend
Description:
A collection of humorous autobiographical essays by the Academy Award-nominated actress and star of Up in the Air and Pitch Perfect.
Even before she made a name for herself on the silver screen starring in films like Pitch Perfect, Up in the Air, Twilight, and Into the Woods, Anna Kendrick was unusually small, weird, and "10 percent defiant."
At the ripe age of thirteen, she had already resolved to "keep the crazy inside my head where it belonged. Forever. But here's the thing about crazy: It. Wants. Out." In Scrappy Little Nobody, she invites readers inside her brain, sharing extraordinary and charmingly ordinary stories with candor and winningly wry observations.
With her razor-sharp wit, Anna recounts the absurdities she's experienced on her way to and from the heart of pop culture as only she can—from her unusual path to the performing arts (Vanilla Ice and baggy neon pants may have played a role) to her double life as a middle-school student who also starred on Broadway to her initial "dating experiments" (including only liking boys who didn't like her back) to reviewing a binder full of butt doubles to her struggle to live like an adult woman instead of a perpetual "man-child."
Enter Anna's world and follow her rise from "scrappy little nobody" to somebody who dazzles on the stage, the screen, and now the page—with an electric, singular voice, at once familiar and surprising, sharp and sweet, funny and serious (well, not that serious).
My thoughts:
I'm aiming this year to read six non-fiction books; combined with the fact a friend offered me a copy of the book, this is mostly why I read it. It's the second non-fic book I've finished, so I need to speed up a little with that challenge.
The book starts at the beginning of Anna's life, with some funny stories about her personality during primary school, before moving to look at how she got involved in professional musical theatre in her early teens. Once it gets to her living in LA, things start to jump around a bit more and become more topical, with stories about learning to live alone, dating, sex, and learning about fashion. She throws in lots of little anecdotes involving famous people she's worked with, which were fun to read.
I found the first section of the book really interesting; I always like to hear about how someone ended up in their career. I did get a little bored in the middle though - I felt like, there are better places to get dating advice, and at this point, a lot of this advice is kind of too late for me, I've learned the lessons myself and am doing ok now, really. I didn't care about the awkward dating experiences she had in high school, those stories just weren't particularly interesting to me.
I did find the book more enjoyable towards the end. I liked the funny stories of things that had happened while filming various movies, and at events like the Oscars. I think if you like celebrity autobiographies, you will probably enjoy this one as well, or if you're interested in an acting career. For me, it slowed down a lot in the middle and I had to push myself to keep going. I don't think I'll be looking at more autobiographies from people this age any time soon. Overall, I'll give
Scrappy Little Nobody
6 out of 10.