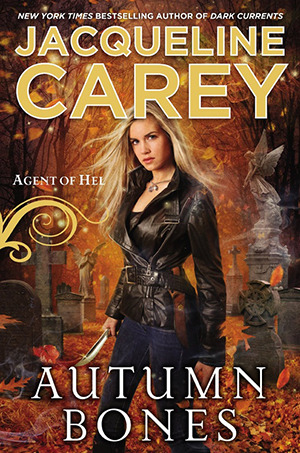 Title:
Autumn Bones
Author:
Jacqueline Carey
Publisher:
Roc
Series:
Agent of Hel #2
Genre:
Urban Fantasy
Source
: Bought
Description:
Fathered by an incubus, raised by a mortal mother, and liaison to the Pemkowet Police Department, Daisy Johanssen pulled the community together after a summer tragedy befell the resort town she calls home. Things are back to normal—as normal as it gets for a town famous for its supernatural tourism, and presided over by the reclusive Norse goddess Hel.
Not only has Daisy now gained respect as Hel's enforcer, she's dating Sinclair Palmer, a nice, seemingly normal human guy. Not too shabby for the daughter of a demon. Unfortunately, Sinclair has a secret. And it's a big one.
He's descended from Obeah sorcerers and they want him back. If he doesn't return to Jamaica to take up his rightful role in the family, they'll unleash spirit magic that could have dire consequences for the town. It's Daisy's job to stop it, and she's going to need a lot of help. But time is running out, the dead are growing restless, and one mistake could cost Daisy everything…...
My thoughts:
This is the second book in Carey's 'Agent of Hel' series. I really enjoyed the first one so I was really excited to get to this. I loved getting to see more about the various potential romantic interests in Daisy Johanssen's life - all of whom have a lot of complications! Particularly this book focuses on Sinclair, who is her sort-of boyfriend for most of the book. I've heard a very little bit about obeah magic, and it was really interesting to learn more. I haven't read many books with supernatural elements that utilise magic from Caribbean culture.
I found the mystery of this book - who was responsible for setting the evil spirit on the town - quite interesting. There are two big enemies facing and her friends in the story, the person setting the evil spirit, and Sinclair's family. I think that made it more interesting. It wasn't just a two strand story, mixing Daisy's personal life with a fight against one bad guy. It made it a more complex story, which is always good.
My favourite of Daisy's potential romantic partners is Stefan the ghoul, who can feed on her enhanced, otherworldly emotions and help balance her out. I loved the glimpses of him in this book and the progression in their friendship and working relationship. I finished the book really hoping that more would happen between the two of them soon.
Overall I'm giving Autumn Bones 8/10.