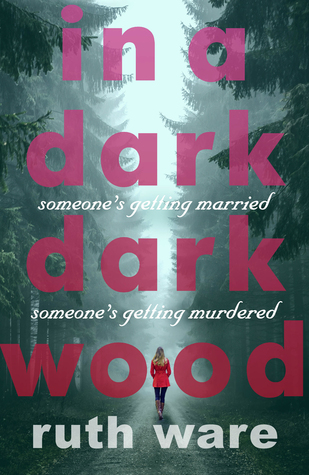 Title:
In A Dark Dark Wood
Author:
Ruth Ware
Publisher:
Harvill Secker (UK) / Scout Press (USA)
Publication date:
30 July 2015
Genre:
Thriller
Source:
Received from the publisher in exchange for an honest review
Description:
In a dark, dark wood
Nora hasn't seen Clare for ten years. Not since Nora walked out of school one day and never went back.
There was a dark, dark house
Until, out of the blue, an invitation to Clare's hen do arrives. Is this a chance for Nora to finally put her past behind her?
And in the dark, dark house there was a dark, dark room
But something goes wrong. Very wrong.
And in the dark, dark room....
Some things can't stay secret for ever.
My thoughts:
(Quick aside: I've also done a video review for this one so if that's more your thing, you can
find it here
.)
The tagline for this book (
Someone's getting married. Someone's getting murdered.
) intrigued me so I thought i would give it a go. In the very first pages, Nora, the main character, is running through the woods, trying to get to a road, and when she does, there's some kind of accident - she wakes up in hospital. The book then alternates between the present with her in the hospital trying to piece together what happened, and her recollections. She was invited to a hen party weekend (or a bachelorette party in the States) for a girl she was best friends with in school. She hasn't been in touch with the girl since Nora abruptly transferred school and moved away. She doesn't disclose to the reader why but it was immediately clear that Something Had Happened. I made a guess straight away and when the 'big reveal' for that point eventually came along, I was right. It did frustrate me a little that it was built up as being a big deal and a big secret when I thought it was really obvious but maybe that's just me and good guessing.
Anyway, Nora goes to the party, where she meets other random people who have never met before despite all being really good friends with the bride-to-be, Claire. They stay in a big spooky house in the middle of some woods, and because in the hospital Claire knows someone has died, there's immediately a sinister edge to things. One of the people here in the house is a killer, and one is going to be dead by the end of the weekend. I liked that over the course of the book, I suspected almost everyone of being the killer at one point. However it did narrow down to two in particular that I kept switching between. By the end, it wasn't that surprising to learn who it was and I was skeptical that Nora hadn't figured it out sooner.
I did really enjoy this. It was a book I carried around with me, reading whenever I had a spare moment. It was easy to go in and out of that way and kept me up reading while I was in London. It was an enjoyable thriller to read, not too intense and creepy but still suspenseful with nuanced characters who had the potential to be both victims or killers. I'm giving this one 7/10.
~Ailsa