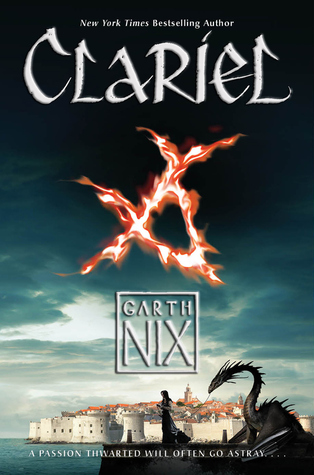 Title
: Clariel
Author:
Garth Nix
Publication date:
October 2014
Publisher:
Hot Key Books
Source:
Bought
Genre:
Fantasy
Description:
Sixteen-year-old Clariel is not adjusting well to her new life in the city of Belisaere, the capital of the Old Kingdom. She misses roaming freely within the forests of Estwael, and she feels trapped within the stone city walls. And in Belisaere she is forced to follow the plans, plots and demands of everyone, from her parents to her maid to the sinister Guildmaster Kilip. Clariel can see her freedom slipping away. It seems too that the city itself is descending into chaos, as the ancient rules binding Abhorsen, King and Clayr appear to be disintegrating. With the discovery of a dangerous Free Magic creature loose in the city, Clariel is given the chance both to prove her worth and make her escape. But events spin rapidly out of control. Clariel finds herself more trapped than ever, until help comes from an unlikely source. But the help comes at a terrible cost. Clariel must question the motivations and secret hearts of everyone around her - and it is herself she must question most of all.
My thoughts:
I'll start by saying that this is a stand-alone novel set in the same world as Garth Nix's 'Old Kingdom' series, however it's set several hundred years before the previous books. So if you're new to the world, you can start with this one. Having said that you can, though, I personally wouldn't recommend it - there were several little details in this book that mean so much more when you're familiar with the other books. I just feel like people will enjoy this book more if they've read the others in the series.
It was so much fun to be back in the world of The Old Kingdom again! I really love the original trilogy and it's one I re-read bits of almost every year. Clariel was fun to read but it wasn't my favourite of Mr. Nix's work. Something about the pacing of the novel just didn't work for me and I wonder if the story was originally either longer or shorter and got changed to fit the stand-alone novel length that it is. This is another reason I don't recommend it as a starting point. I don't think this is the best representation of Garth Nix's writing. One thing I did really like about it was that Clariel is asexual. I'm not sure if I've ever read a book with an asexual main character and that was interesting and refreshing. It wasn't just done to make an 'issue' either which I appreciated; it's a central part of who Clariel is (obviously) and ties in hugely to why she wants what she does and acts the way she does.
Yes, I liked this book, but it's not my favourite in the series and while Clariel was a very interesting character to read about and see the little choices that lead her down her path, the plot and pacing just didn't quite build enough intensity for me.
My verdict on this one is 7/10.
On a slightly-related note, I really want a 'Does the walker choose the path, or the path the walker?' t-shirt. Surely these exist somewhere?