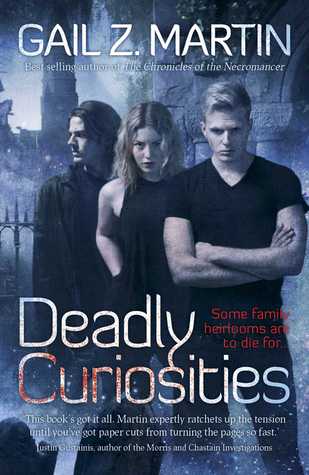 Title:
Deadly Curiosities
Author
: Gail Z Martin
Release date:
June 2014
Publisher:
Solaris
Source:
Bought
Genre:
Urban Fantasy
Description:
Welcome to Trifles & Folly, a store with a dark secret. Proprietor Cassidy Kincaide continues a family tradition begun in 1670 - acquiring and neutralising dangerous supernatural items. It's the perfect job for Cassidy, whose psychic gift lets her touch an object and know its history. Together with her business partner Sorren, a 500-year-old vampire and former jewel thief, Cassidy makes it her business to get infernal objects off the market.
When a trip to a haunted hotel unearths a statue steeped in malevolent power, and a string of murders draws a trail to the abandoned old Navy yard, Cassidy and Sorren discover a diabolical plot to unleash a supernatural onslaught on their city.
It's time for Kincaide and her team to get rid of these Deadly Curiosities before the bodies start piling up.
My thoughts:
This is one of the most action-packed stories I've read for a while. The first chapter sees Cassidy and her colleague Teag hearing about a haunted guest house which someone wants their help with. To simplify the story a little I'll say that they also have to deal with a variety of 'haunted' objects which cause Cassidy, with her magical gifts, to go a bit funny. Teag & Cassidy both think all the hauntings and negative feelings around these objects are linked together and connected to a string of brutal murders which are happening in the city but they can't figure out how.
I thought it was an incredibly spooky story - a lot of the danger & fear in the books comes from shadowy things seen out the corner of the eye, or things moving in mirrors if you look at them long enough, which is exactly the sort of thing that creeps me out. I get paranoid and jumpy and this book really uses that kind of fear to crank up the tension of the characters in the story. They
know
that there are bad things watching them but they have a hard time getting a clear look at them and figuring out what it is.
Aside from the action and the creepy bad guys, I really liked the voice of it and the way Gail Z Martin paints the world. I believe she has written several short stories set in this world, and although this book is the first in a series you can really tell, reading it, that those other stories exist. For instance, Teag has some magical powers of his own and it says those are a recent discovery for him. The way it's talked about, I'd be willing to bet there are stories with Teag learning about this gift somewhere. The back cover description also emphasises the vampire Sorren but he actually comes in to the story later on and seems to be more in the role of 'big back up they call in an emergency'. Again, I expect he has more of a role in other stories. For all that it's obvious this world has been built up over other stories, I think it works very well and it doesn't affect the telling of this particular story. I didn't feel like I needed to have read the other things first, but it did make me want to read them now!
One thing keeping me from giving this a perfect score is that there is no hint of romance (except between Teag & his boyfriend but they're very solidly a couple already) and I am partial to just a little bit of romance. However, it's not necessarily a bad thing at this stage in a series and it gives me hope that this will go the way of my favourites and gradually bring in a little hint of romance over several stories, building it up realistically. Although the book takes place over the time of a couple of weeks, there really wasn't any time for Cassidy to be thinking romantically, after all!
As one of the best starts to an urban fantasy series that I've read in the last year, I'm giving this one 7/10. I hope there's a sequel soon and I imagine this series can grow in to 10 star ratings as it goes on.
~Ailsa
Buy it: The Book Depository