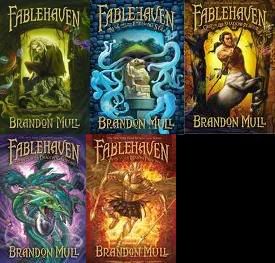 Fablehaven
is a series of five books that follows a brother and a sister on a journey to save the world from the demon prison, Zzyx (points to you if you know where the author picked up the name for that one!)
Kendra and Seth Sorenson are a normal, average sibling rivalry pair that are sent to stay with their Grandma and Grandpa Sorenson in Connecticut one summer while their parents go on a "no kids allowed" cruise.
When arriving at their destination, they see how much land their grandparents have and can't believe they wouldn't want people to visit them to share their wonderful land with everyone as visitors. On the way in, there are signs warning of "Danger," "Turn Back Now" and such that would drive people away from their home. But when the kids get there, there is no television, just a playroom they sleep in filled with old toys and books.
As Seth is the adventurer of the two, he wanders off one day and gets himself in a mess with a witch out in the forest that was off limits to them both. Thus, begins their adventures in finding that their grandparents are really caretakers of a preserve for magical creatures called, Fablehaven. Many wonderful and dangerous creatures roam the preserve under a contract that keeps everyone but the fairies and a golum that does chores around the preserve and yard out of the yard and away from the house and locked up in the preserve. But someone wants out--or should I emphasize--someones. The journey they begin in book one all the way through book five really gives the fantasy world something new to look at through these characters eyes. Kendra and Seth battle witches, trolls, demons, centaurs, fairies, naiads, dragons, and even their own kind throughout this series.
Brandon Mull did an amazing job with this series. I remember seeing the book at Barnes and Noble thinking, "I think I'd like that book". Just by the cover. And after buying it and reading it, I was hooked. I kept on buying each book and reading them through. My husband too--in fact, he'd steal it from me as soon as we got the book if I hadn't read it through yet.
The storyline for all of
Fablehaven
is very well planned out. From beginning to end, as the reader, you travel with Kendra and Seth as if you're the fairy on the shoulder just watching all the adventure take place and wishing it was you as one of the characters. I wonder throughout these books, "Now how did he come up with that creature? What inspired him to write that kind of thing?" I should have asked him these questions when I met him last summer before moving away. But one spot in the fifth book, there are some strange names that are throughout the entire book and my first thought to those was, "How do I pronounce that?" or "I wonder if he asked his kids what he should name this creature."
When I met him last summer, I met his kids too. And when his son walked into the room, I told him, "You're daddy must have made Seth look like you." Brandon's response, "Yeah, he kind of does look like him huh?"
The characters are loveable even though you want to smack both of them around sometimes for the stupid behavior they pull or the too good of behavior they pull. Kendra is the shy, sweet sister who is okay with obeying all the rules and not getting into trouble. Seth, on the other hand, well let's say if he doesn't have his emergency kit, he's in BIG trouble. He likes trouble anyway, gives him a sense of adventure. But just watching them through the story and learning things about themselves and their potential is just wonderful to read.
I don't want to give too much away about any of the characters or the story itself. I really suggest reading these! If you liked
Harry Potter
or the
Percy Jackson
books, you'd like these. They're fun, family friendly and just a thrill ride waiting to happen in each book.
Out of all the fantasy young adult books I've read (including
Harry Potter
), Fablehaven is my favorite of them all.
Other books by Brandon Mull include,
The Candy Shop Wars
,
Pingo
, and he will be releasing a new series called,
The Beyonders
, March 2011.