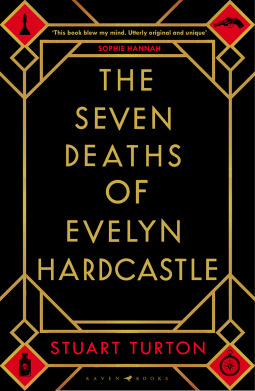 Title:
The Seven Deaths of Evelyn Hardcastle
Author:
Stuart Turton
Release date:
8th February 2018
Publisher:
Raven Books (an imprint of Bloomsbury)
Genre:
Fantasy
Source:
Review copy from publisher via NetGalley
Description:
A brilliantly original high concept murder mystery from a fantastic new talent: Gosford Park meets Inception, by way of Agatha Christie
'Somebody's going to be murdered at the ball tonight. It won't appear to be a murder and so the murderer won't be caught. Rectify that injustice and I'll show you the way out.'
It is meant to be a celebration but it ends in tragedy. As fireworks explode overhead, Evelyn Hardcastle, the young and beautiful daughter of the house, is killed. But Evelyn will not die just once. Until Aiden – one of the guests summoned to Blackheath for the party – can solve her murder, the day will repeat itself, over and over again. Every time ending with the fateful pistol shot. The only way to break this cycle is to identify the killer. But each time the day begins again, Aiden wakes in the body of a different guest. And someone is determined to prevent him ever escaping Blackheath...
My thoughts:
The premise of this book caught my attention right away: someone repeats a day again and again in a different body each time, until he can solve a murder. And having read it over the past week, it's snuck in at the last minute to be one of my favourite books of the year. I'm already planning to buy copies for a couple of people when it comes out.
The tension kicks in on page one and barely lets up through the entire book. At first, Aidan has no idea what's going on. Gradually he's given instructions and starts trying to put everything together. Stuart Turton's fantastic plotting means that every little conversation you see has a significance, every detail or interaction is important. It's a long book, but it didn't feel like it dragged at any point - I was on the edge of my seat through the entire thing. There are so many twists and turns.
The story takes place at Blackheath House, a crumbling manor deep in the woods. It's the age where guests arrive in horse-drawn carriages, and when someone is offered the option of driving a car to the village, he's horrified at the idea of getting in the vehicle at first. It's a dark, atmospheric setting, and combined with the intricate murder investigation I was strongly reminded of Agatha Christie books.
I can't say much more about the plot without giving things away, but I don't think I need to: Aidan does his best to investigate the murder, talking to various characters and trying to piece together the puzzle of what's going on in the present day, and what happened nineteen years ago when Evelyn's younger brother was murdered. It's clear early on that there's a connection between them, and he hopes that by figuring out the truth of the first, he might untangle what's going to happen to Evelyn and why.
The Seven Deaths of Evelyn Hardcastle
is an incredible book. Stuart Turton has done a great job of keeping the tension high throughout the entire book. It's like The First Fifteen Lives of Harry August crossed with your favourite Agatha Christie novel. If you love a good mystery novel, I one hundred percent recommend it. Ten out of ten.