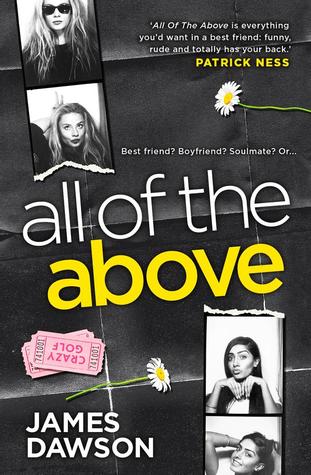 Title:
All Of The Above
Author:
Juno Dawson (formerly known as James Dawson)
Publisher:
Hot Key Books
Release date:
summer
Genre
: YA Contemporary
Source:
Won
Description:
This is a funny and moving love story about friends, first loves and self-discovery by Queen of Teen 2014. When sixteen-year-old Toria Bland arrives at her new school she needs to work out who her friends are in a crazy whirl of worry, exam pressure and anxiety over fitting in. Things start looking up when Toria meets the funny and foul-mouthed Polly, who's the coolest girl that Toria has ever seen. Polly and the rest of the 'alternative' kids take Toria under their wing. And that's when she meets the irresistible Nico Mancini, lead singer of a local band - and it's instalove at first sight! Toria likes Nico, Nico likes Toria, but then there's Polly...love and friendship have a funny way of going round in circles.
My thoughts:
I didn't know much about this book until I saw Juno in conversation with George Lester on
George's YouTube channel
. I really liked the sound of the story & was lucky enough to win a copy in George's giveaway.
All Of The Above starts with Toria on her first day at a new school, for her penultimate year of high school. She's quickly adopted in to a group of friends who, if we're using high school group stereotypes, would be the 'alternative kids'. The main characters apart from Toria are [name], Polly and Beasley. The story follows them, through Toria's eyes, through the year.
It's hard for me to review this without feeling like I'm doing it a disservice. It's a girl and her friends in high school, like you've read before. What's it about, beyond that? Friendships. A first serious relationship. Physical intimacy. Eating disorders. Self-harm. Figuring out your sexuality. Breakups.
Some people might dismiss it as being too many 'issues' crammed in to one book. But that's rubbish. If they think that, it's been too long since they were a teenager. In a friendship group, there are so many things going on at one time and I think Juno Dawson captures that perfectly. She also manages to make it laugh out loud funny in so many places, and grabs you by the feelings in others. I cried on the train to London reading one part - and if you've read the book, it probably wasn't the part you'd first guess.
It's a rollercoaster of a book, just as a year of high school is and absolutely captures being an older teenager. I'm giving All Of The Above by Juno Dawson 9 out of 10.