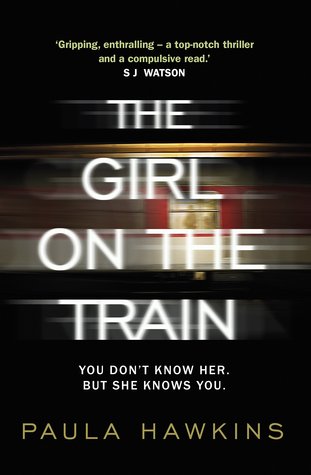 Title:
The Girl On The Train
Author:
Paula Hawkins
Publication date:
January 2015
Publisher:
Transworld
Source:
Borrowed
Description:
Rachel catches the same commuter train every morning. She knows it will wait at the same signal each time, overlooking a row of back gardens. She's even started to feel like she knows the people who live in one of the houses. 'Jess and Jason', she calls them. Their life – as she sees it – is perfect. If only Rachel could be that happy.
And then she sees something shocking. It's only a minute until the train moves on, but it's enough.
Now everything's changed. Now Rachel has a chance to become a part of the lives she's only watched from afar. Now they'll see; she's much more than just the girl on the train…
My thoughts:
I did not like this book. At all. I will go so far as to say I hated it.
It's not the writing. It is a well written book. My complaint is with the characters. The book is narrated primarily by Rachel, who it quickly becomes clear is an unreliable narrator. Within the first few pages readers realise she's an alcoholic and as the story goes on there are other reveals here and there that show other things that have been omitted, which paint her in a more and more unflattering light. The other two women who narrate are Anna, who is married to Rachel's ex-husband and 'Jess' (actually Megan), the woman Rachel watches from the train.
Primarily the narrators annoyed me for their idiocy. The three of them make silly choice after silly choice. In particular I had no sympathy for Rachel, who doesn't seem to be doing anything to help herself. I couldn't care about the characters or what happened to them because they were too idiotic. Rachel drinks and does silly things; Megan makes stupid choices and can't seem to grow up, and Anna sees everything as revolving around her.
I forced myself to keep going and I'll admit that I didn't guess how the book was going to end but the characters drove me up the wall. They made it irredeemable in my opinion. I will give this 2/10, based on the fact the writing was actually fine.
Have you read this one? What did you think?
-Ailsa