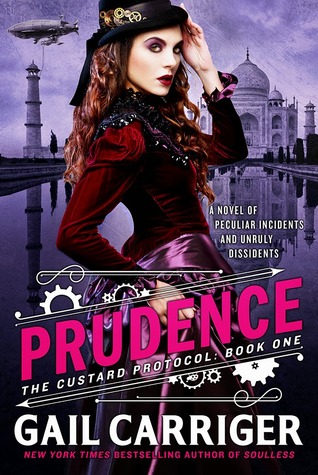 Title:
Prudence
Author:
Gail Carriger
Release date:
March 2015
Publisher:
Orbit
Series:
The Custard Protocol, book one
Genre
: Steampunk
Description
:
ON BEHALF OF QUEEN, COUNTRY . . . AND THE PERFECT POT OF TEA
When Prudence Alessandra Maccon Akeldama (Rue to her friends) is given an unexpected dirigible, she does what any sensible female would under similar circumstances - names it the Spotted Crumpet and floats to India in pursuit of the perfect cup of tea.
But India has more than just tea on offer. Rue stumbles upon a plot involving local dissidents, a kidnapped brigadier's wife and some awfully familiar Scottish werewolves. Faced with a dire crisis and an embarrassing lack of bloomers, what else is a young lady of good breeding to do but turn metanatural and find out everyone's secrets, even thousand-year-old fuzzy ones?
My thoughts:
I'm a big fan of Gail Carriger's so I had high hopes for 'Prudence', the first book in her latest series. Thankfully, Ms Carriger did not disappoint. 'Prudence' focusses on Rue, the daughter of Alexia from the Parasol Protectorate series. Rue is approximately 20 years old in this series, and begins the story by stealing a snuff box at a party then shape shifting into a werewolf to get away. Rue has the power to steal supernatural forms by touching the owner - for example, touching her 'uncle' Biffy the werewolf turns her into a wolf until morning, or touching her adoptive father Lord Akeldama turns him mortal while she becomes a vampire. It seems like a pretty cool power to me and I got the impression that Rue had been a bit of a terror growing up.
Lord Akeldama, apart from being a prominent member of vampire society and one of the best dressed men in London, is a bit of a spy-master, always knowing the gossip and news from across London. It's for him that Rue acquires the snuff box, only to find it contains a new kind of tea - from India. When he gives Rue a dirgible, she takes it to India to set up a venture for him with the tea. Of course things don't turn out as planned, and even before they arrive in India, a lioness has tried to steal Rue's parasol and her Navigator and Chief Engineer are refusing to get along.
I loved the group of Rue's friends who end up on the ship with her. There is Quesnel, very French and very flirtatious, who throws Rue in a duck pond at the start of the book. Her best friend is Prim (daughter of Ivy, for those who've read the Parasol Protectorate series, but very unlike her mother) is the perfect hostess and has been involved in all of Rue's best scheme. And there is Percy, Prim's twin brother, who can never get his nose out of a book, even (shocking!) at the dinner table. I can't wait to see what other adventures the four of them get up to. There are some other interesting supporting characters, too, and as the series goes on I suspect some will have bigger roles to play (Lyall, for one).
Although it's set in the same world as Ms. Carriger's other books, you really don't need to have read them before you start this series. I think the story is different enough from the other books that it's definitely going to keep me interested. It also builds up the world very well - I think it's a fine place to start for new readers of Gail Carriger.
Overall, this was a very fun book. I'm already really looking forward to the next book in the series. I'll give this one 8/10.
~Ailsa