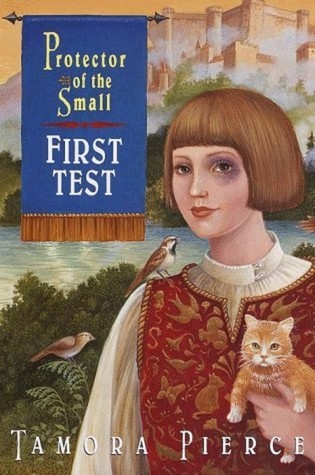 Title:
First Test
Author:
Tamora Pierce
Series:
Protector of the Small #1
Published:
1999
Description:
Kel is the first girl in ten years to take advantage of the decree that permits girls to train for the knighthood, and she is about to smash everyone's preconceptions about what girls can and cannot do...
My thoughts:
I read Tamora Pierce's 'Immortals' series multiple times in high school, so I was really happy to spot some of her other books at the library the other day. Something I admire in Ms. Pierce's work is that she manages to capture the feelings of a fantasy book and fit the world building, characterisations, and plot you'd expect into an adult novel into a much shorter book aimed at teen readers. 'First Test', the first in the 'Protector of the Small' quartet proves that this is a trait for all Tamora Pierce's books.
The story starts with the king talking to Lord Wyldon, then man who trains the pages & squires to be knights, discussing admitting Kel to the training program. Lord Wyldon is strongly against it even though the law says she must be allowed, and they compromise by putting her on probation for her first year. Kel arrives determined to prove that girls can do just as well and sure that she will be able to convince him in the first year that she should be allowed to stay. 'First Test' covers that first year of training, as she deals with bullies, prejudice, difficult classes and a stubborn horse in her quest to become a knight.
I loved being back in the world of Tortall, in the aftermath of the Immortal Wars. This book starts just a few months after the last one I read finishes, so it's interesting to see familiar characters from a new perspective and see how the kingdom is doing. There are still many creatures which escaped from the Immortal Realms wandering around, and yes, Kel encounters a couple.
This was a fast, enjoyable read for me, and I'm looking forward to the next in the series. I'll give it 7/10.
~Ailsa